Marine
Fire protection around waterways for transformers, chemical storage, bulk cargo, industrial and substations does not use fire sprinklers – sprinklers create RUN OFF into the water way which poses an environmental threat. Fire barriers and advanced fire barriers protect these assets without the liability of environmental damage – they contain the fire and collateral damage without damaging the water way. Our marine Fire Barriers are designed for use in harsh environments and around water. Modular, customized designs allow access for maintenance and changes to equipment without needing major foundations or support for the fire barrier – we install on piers and existing walls up to 60' high and 150 MPH wind load.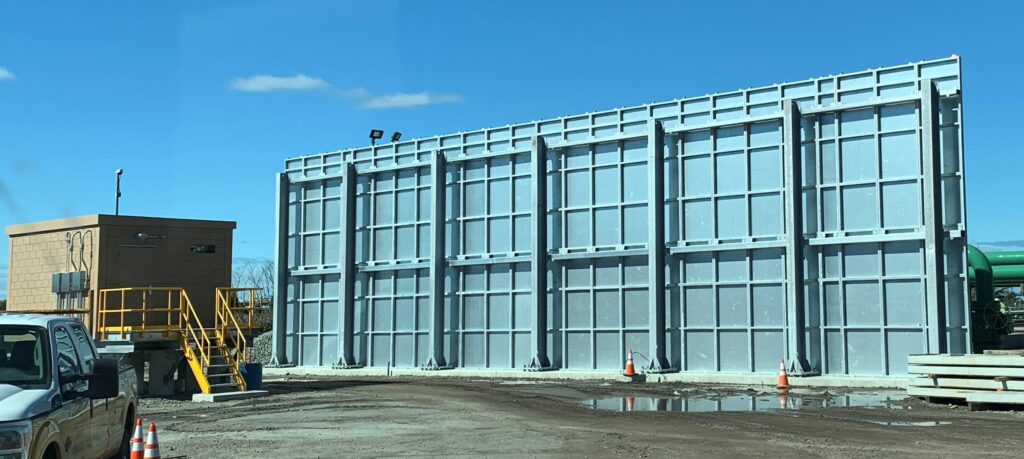 Noise
Noise Reduction Fire Barriers offer you the ability to suppress noise by up to 29 dB near equipment, transformers, reactors, and hazardous areas to save cost and reduce noise and vibration. Noise Fire Barriers reduce noise through absorption and are available in any height to 60' tall. These fire barriers protect buildings, people, and sensitive areas from fire and explosion with the added benefit of suppressing equipment noise. They are deployed quickly and easily on pier foundations up to 10' on center and can withstand wind loads up to 152 MPH. Installations meet NFPA 850 guidelines for Line of Sight protection compliance. Meets insurance requirements.
Seismic
Pier foundations and fire barriers are designed and installed to meet California Seismic requirements. The assembly, movement, and design accommodate motion and vibration – protecting substations, equipment, and assets before, during and after the seismic event. We have designed and installed seismic fire barriers up to 60' tall and 150 MPH wind load – we customize to your site conditions and design the most cost-effective protection possible to meet your needs. Our structural steel piers to 16' on center and wall-staggered designs make this type of protection possible.
Nuclear
Our nuclear Fire Barriers offer radiation shielding and properties beneficial for use in nuclear generation and storage operations. Our innovations in materials, design, and deployment of customized barriers and assemblies offer the nuclear industry the opportunity to design, create, and innovate safety, security, and containment where it is most critical. We protect control rooms, secured areas, switchgear and controls, shaft ways, vaults, reactors, and all other facets of equipment with our assemblies, barriers, boxes, and our customized solutions and products.